Inside the Healing Journey pre-order form
Thank you for your interest in pre purchasing my book 'Inside the Healing Journey'. This is my transparent story, a virtual how to manual of how, not that, I overcame five cancers, including two bouts with brain tumors, and the subsequent climb up the steep mudslide of extreme brain damage. In spite of all that I went on to become a published journalist, inspirational speaker, life skills trainer, artisan and community investment specialist. My neurologist has never seen someone come out of such extreme brain trauma with such vigor and success. In the book I share with those dealing with life threatening, debilitating, and chronic diagnosis what I did to overcome it all.
---
Option 1
If you are not able to pre-purchase the book… and I understand that… I am offering the report Faith, Friends, Food and Fun: how to minimize health issues as we age gracefully, forever young. $5
---
Option 2

Pre-purchase Inside the Healing Journey personal workbook ( $20)…includes report and s/h in North America.
---
Option 3

Pre-purchase book ($29.95) …includes report and s/h in North America $40



---
Option 4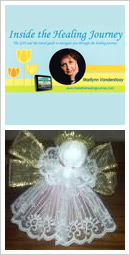 Pre-purchase book …includes report… and hand crafted lacy angel… to remind you that you are my angel …($55) Includes s/h in North America
---
Option 6

The full package!
Pre-order book Inside the Healing Journey with report Faith, Friends, Food and Fun, with lacy angel delivered in a handmade patchwork bag. Includes s/h in North America. $85
---
Option 7

Add Inside the Healing Journey personal workbook. Includes s/h in North America. $105
---
Option 8

Purchase handmade lacy angel. Includes s/h in North America. $20
---
Option 9

Purchase Fire Drill personal workbook. Includes s/h in North America. $20